I was in quite a funk the couple days after we got home from our 4th of July vacation to Tennessee to visit my family. We had the best time celebrating independence in the mountains–don't get me wrong, but coming back home, I had a ton of laundry, unpacking, and lots to catch up on. It always takes me a couple days to get everything back to normal–so to speak.
Yesterday, I got up, got ready (I even put on some makeup) and I felt like a brand new person! It's funny how just the act of getting ready can shift your mindset sometimes. I asked my husband if he could watch the kiddos and this mama left for a Target date with MYSELF.
Not even kidding, I had the best time. I treated myself to a matcha latte, strolled the aisles with nothing to purchase in mind, and I had no kids asking me to go to the toy aisle, or "mommy, are you done yet."
GLORIOUS.
Can any other mamas out there relate, lol?
The most fun I had was trying on clothes–for the fun of it! I guess I had back to school outfits in the back of my mind but in reality, it was fun to play dress up–the perfect medicine to get out of that mental funk I couldn't seem to shake two days before.
If you follow me on Instagram (@angietorreswilson), I had a poll on each outfit. It was so fun to get you guys involved on what you liked and what you didn't like. TBH, it didn't make my job picking out the outfits any easier because you guys seemed to like almost everything, lol!
If you missed out on the fun yesterday, I wanted to share the outfits on here and break everything down for you–just in case you liked these outfits as much as me. What I love about Target is how up to date they are with fashion trends and its incredibly affordable.
Slim Fit Tank Top (linked) is only $9.00 and it a staple for summer! I am wearing a large. It's so soft and comfortable. These purple pants are life–so incredibly comfortable, high-waisted, and it comes in so many color options (linked here). The pants are $29.99. I would size down one. I am normally a size 12 and bought a size 10.
Even though this dress was a little wrinkled, I fell in love with how comfortable and colorful this dress is (linked). The ruffles on the sleeves are the perfect touch. There is a little cutout in the back as well. This dress is $29.99.
This is the same dress (linked) as above, just in a different pattern. Both are priced the same. Which one do you like more?
I believe 100% of you guys wanted me to buy this beauty (linked)! It is so comfy and perfect for summer. I could imagine wearing it during fall as well with a cute little sweater. It's at a modest length as well. I am wearing a size medium. This dress is $27.99.
Knox Rose at Target has so much cute affordable options. This tee is no exception (linked). The details allow you to dress it up or down. I am wearing them with some shorts I got recently from American Eagle. I am wearing a size large and this shirt costs $24.99.
I think this shirt has to be my favorite (linked). It is Knox Rose like the shirt above. I love the embroidery and cute little buttons. Again, I totally see this being able to dress up or down. I am wearing a size large and this shirt costs $27.99.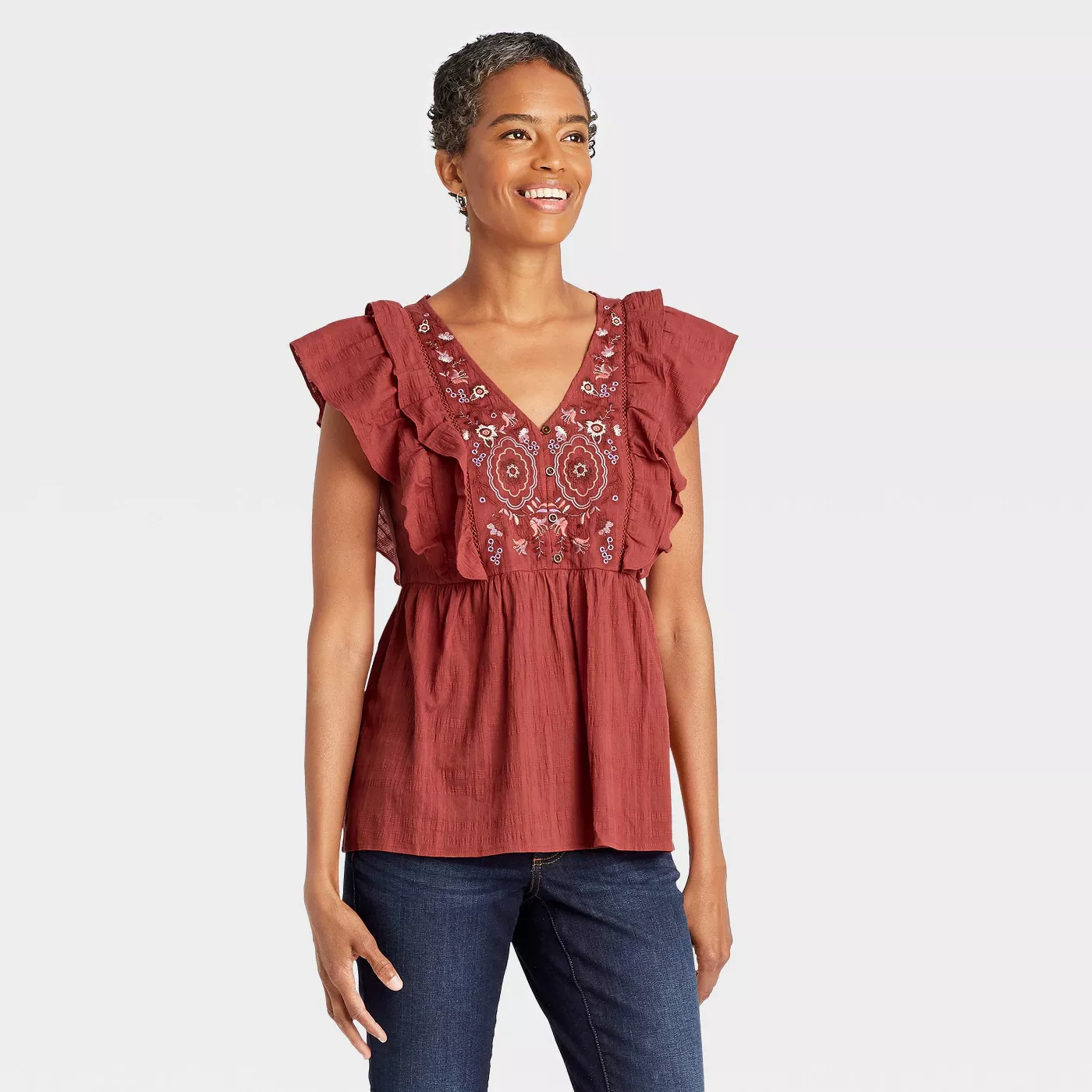 Picture Roundup
I appreciate you guys shopping with me! It was so fun. I would love to do it again soon…but the questions is do I hit up Target again or go somewhere new like Old Navy?
Let me know!!!
All about that affordable fashion! 😉
Happy Shopping,
The Gadabouter