Where the Gold Rush Started
It has been ages since I last posted on here and I am happy to be back.
Life as we all know it has changed dramatically since COVID and I have felt that change in all aspects of life.
David and I had several trips planned, as you know–to Jamaica (canceled) and Mexico (canceled as well), and we felt like with everything going on, we needed to still get away. Even though Colorado was not the tropical destination we were originally planning for, it still served its purpose, and was incredibly refreshing.
Trip Breakdown
We flew out of Charlotte–direct flight to Denver, CO. Flying with Frontier for the first time, I would strongly recommend finding other flight options as Frontier was below par. You ultimately get what you pay for…as our flight over to Denver for both David and myself was around $180 (including our checked bag). The flight attendants were incredibly rude and the seats extremely uncomfortable–for a longer flight.
When we arrived to Denver, we took a shuttle to our rental car company, SIXT.
I have not heard too much about this rental car company, however, I got a great deal on Priceline–I like to live life on the edge I guess 😉
Sixt is amazing! We were met by the nicest agent who upgraded us to a 4-wheel drive (as when I got the rental car originally, it was not expected to snow). We ended up with a Volvo S90–which was beautiful and worked wonderfully in the mountains/snow. I will be renting a car from them in the future!
The car was 4 wheel drive and incredibly beautiful. Since David and I both drive a truck and an SUV (4-Runner) the car was incredibly low for us and a little bit of an adjustment.
Our First Lunch Spot in Denver
David and I both truly loved the atmosphere and quirkiness of this location. The food was affordable AND delicious. David got a brisket and I got the patty melt and ohhh boy, it hit the spot. Even though we weren't in the mood for breakfast, this restaurant serves it all day. Yes, please!!
After lunch, we walked around downtown Denver. Walking around and seeing how much has changed since our last visit in 2016, I was disheartened! Lots of places had been shut down–as COVID prevented sales, which caused many business to close their doors. Store fronts were boarded up from the recent protests. Overall, I wanted to escape the city of Denver, so we headed straight to our final destination: Idaho Springs.
Click the title above for a direct link to the property site
I found our little cottage on AirBnB. When I saw the property for the first time, I think my jaw literally hit the floor. I love the simplicity within the design and I also loved the backyard stream/creek and privacy the property provided. Downtown is about 5-7 minutes away from the cabin, and there are quite a few food and shopping stores to visit.
The Space
This cabin is very chic & modern, and has several fun games & books. It is small at approximately 330 sqft.
The outdoor view is incredible and serene.
There is a small kitchenette for cooking, with a Keurig for coffee & tea, microwave, plugin cook plate, pots and pans, mugs, minimal dishes & flatware, and refrigerator in the pantry.
4 wheel drive is NOT required to access the cabin, parking is directly in front.
Drawbacks
The cabin is REALLY small and quaint. If you want space, this is not the place for you. It has a small inside space (330 sq. feet) but the outside space/view does make up for it.
The bed, although comfortable, it super small for two grown adults. If you are used to sleeping on a king sized bed like we are, it will be a little bit of an adjustment.
The price is somewhat steep…currently the property is listed at $239 a night. There are no refunds given by the host–it is a commitment if this is the place you want to stay.
Cell phone service is non-existent, however, great WiFi does allow you to stay connected while on vacation.
Pictures of the Property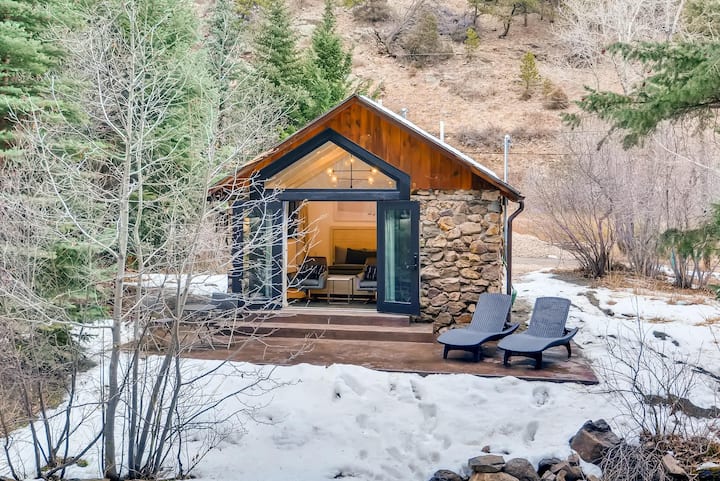 Our First Dinner Spot in Idaho Springs
Clear Creek Cidery & Eatery
This place was freakin' awesome. Even though the service was a little on the slower side, we loved the vibe of the restaurant and all the creative entrees they provided…let us not forget about the CIDER. I was in heaven with their Pineapple Cider. I got the most delicious salad–as I was still somewhat stuffed from our lunch, and David got the Bacon Macaroni and Cheese.
Our Breakfast Spot
We freakin' loved this place we went there two days in a row for breakfast. Everyone was incredibly friendly and service was quick and efficient. Everything was made in house, including all their breads–not to mention their fresh squeezed orange juice.
Outfit Breakdown
Since it was snowing and very cold, I brought what I could–this Florida girl who lives in South Carolina doesn't have very many cold weather options. I have link all the outfits in my LIKEtoKNOW.it profile.
Travel Outfits
Day 1
Day 2
Day 3
If you have made it this far, thanks for reading about our little adventure. If you have any questions, leave a comment and I will get back to you 🙂
I hope you all have the BEST Thanksgiving.
The Gadabouter